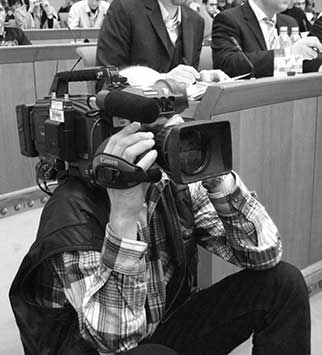 Managers, executives and political players work in the media's spotlight. Press events & interviews can be stressful: Journalists' questions demand spontaneous reactions, the public eye is scrutinising the candidate's confident appearance and key messages often get lost.
A confident interaction with journalists takes practice & insider knowledge.
Especially when it comes to crises, tough decisions and unpopular topics, there is a need for strategic empathy to influence public opinion & journalists in a positive way. Lilit enables you to counter these pitfalls and to place your own agenda in the center of attention. Tailored to your needs, our Media training can cover the following areas:
Acting confidently in front of the camera
Using videos in social media campaigns
Knowing the pitfalls of journalistic inquiry
Using strategic argumentation in interviews
Placing key-messages in the media
Setting the agenda & influencing public opinion
Use the findings of media studies, film studies, media effects research and our Lilit expertise in journalism & persuasion for your own success. Experience the Lilit Media Training and contact us for an individual training appointment.